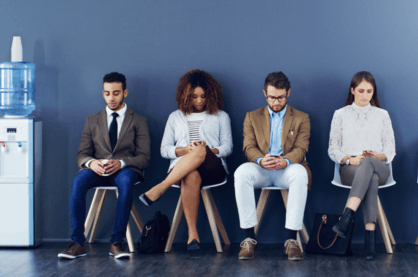 hireEZ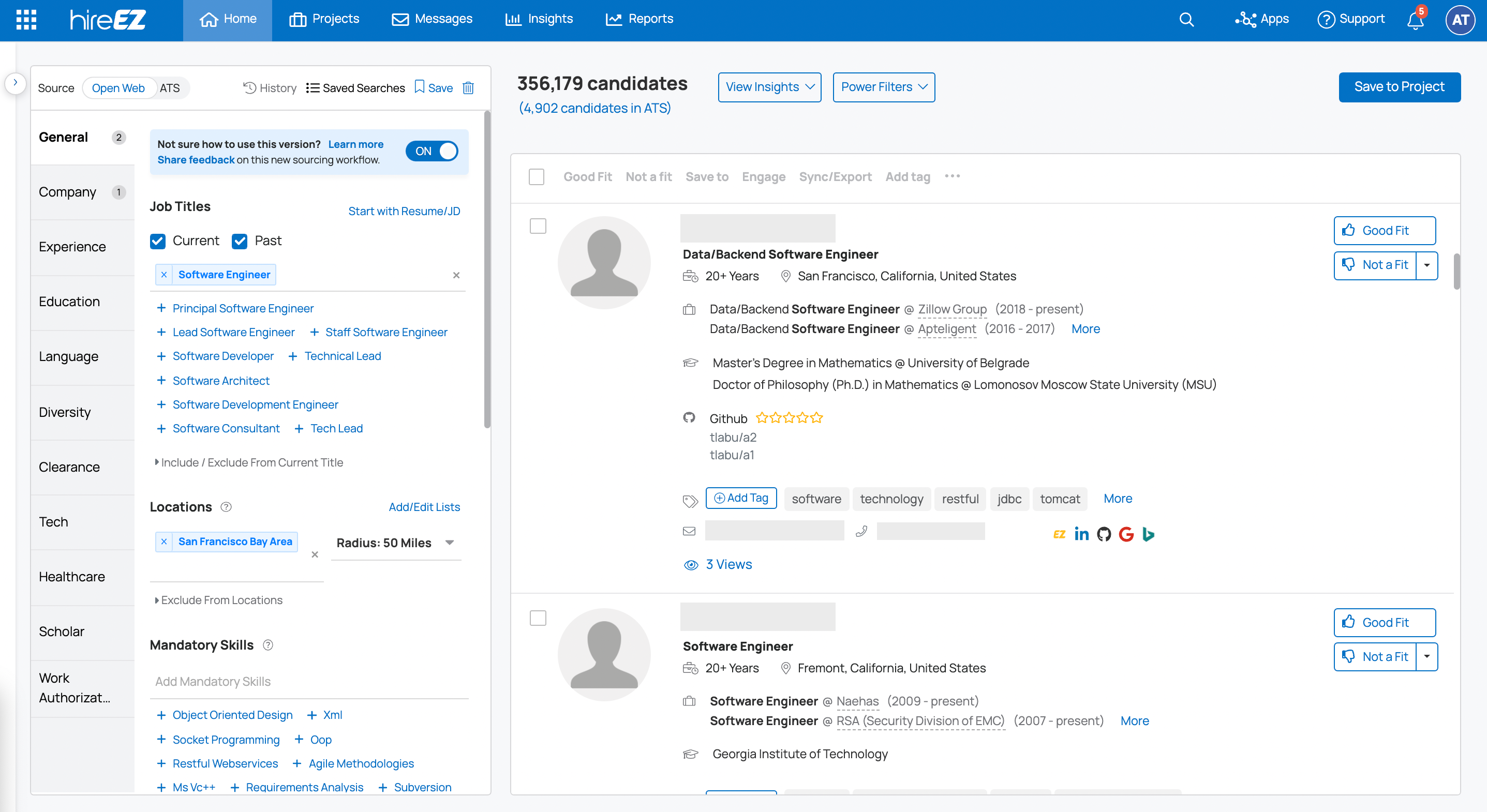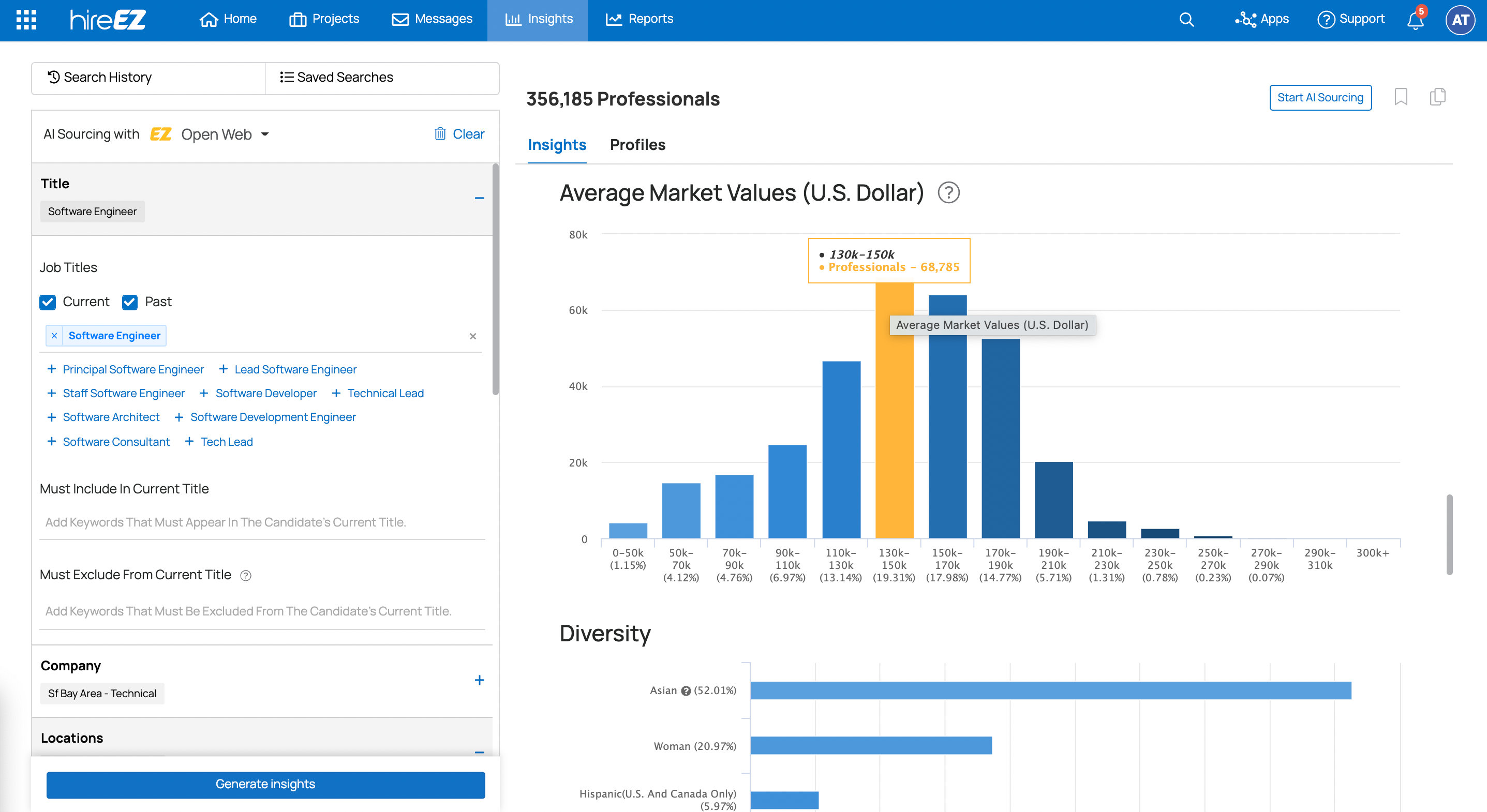 With hireEZ, you can execute a strategically scalable approach to build your workforce of the future with EZ Sourcing, EZ Engagement, EZ Integration, EZ Collaboration, and EZ Security and Compliance.
AI-Sourcing
With hireEZ, you can easily expand your talent pool with 750M+ candidate profiles from 40+ platforms (i.e. GitHub, Kaggle, Stack Overflow, LinkedIn, Indeed, Healthgrades). Experience the ease of tech and healthcare recruiting with industry-specific filters. Powered by AI and Machine Learning algorithms, hireEZ will learn your preferences and even make suggestions to make your search quick and easy. Find both personal and work contact information with 85% contact-finding rate and 94% accuracy. Reach your Diversity & Inclusion goals with hireEZ's Blind Sourcing Mode and filters like African Americans, Women, Veteran, and Hispanic.
Engagement
Integrate your email with hireEZ to gain access to an array of tools that will help you personalize candidate engagement and increase response rates. Schedule and send emails to a group of candidates with one click. Create sequence email templates for your next campaign. Maximize the impact of your emails by sending them on behalf of a team member or hiring manager. View live tips on predicted email performance insights as you type, and better strategize with real-time email tracking. To ensure that members of your team do not reach out to the same candidates, hireEZ also helps you track the engagement history of candidates.
Talent Fusion
Integrate JazzHR with hireEZ to streamline your workflow. The two-way integration between the platforms ensures data fluidity, hygiene, and enrichment. By fusing your existing data with information gathered from hireEZ's 40+ platforms, you will be able to work with holistic candidate profiles that have been refreshed. Easily manage duplicate candidate profiles and intelligently merge or keep them separate. Uncover a goldmine of candidates who are already interested in your company with Talent Rediscovery, and resurface candidates from current and past jobs in JazzHR. hireEZ has enterprise-grade security certifications in place to help keep your confidential and private information safe and secure.
Market Insights
Kick off intake meetings with the right expectations. hireEZ intelligently analyzes data from 750M+ profiles, 100M job descriptions, and 50M companies to give you actionable market trends. Make informed decisions with an eagle-eye view of where candidates work, where they've worked before, their years of experience, their skill sets, average market values, and more. hireEZ Market Insights can be easily exported as PDF files to help you better collaborate with your hiring team and hiring managers.