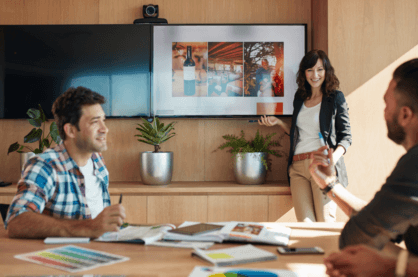 The Muse
Meet The Muse!
The Muse is the go-to destination for the next-gen workforce to research companies and careers. More than 75 million people each year trust The Muse to help them win at work, from professional advancement and skills building to finding a job. Organizations use its platform to attract and hire talent by providing an authentic look at company culture, workplace, and values through the stories of their employees.
About Us
Why We're Here:
Every company is unique—and every candidate wants something different from their work. We believe that employers and candidates are ultimately looking for the same thing: the right fit. We're here to help them find it.
What We Do:
We forge more authentic connections between employers and candidates by providing an inside look at your company's culture, workplace, and values.
Who We Are:
Our audience of next-gen talent is diverse and engaged. Millions of qualified candidates come to The Muse every year in search of the next great place to grow their careers—and your company should be visible when they're ready to make their next move.
How We Do It:
Discover Key Employee Insights:
We use proprietary technology and our years of expertise to gather insights directly from your employees to learn what they value the most about working for your company.
• Team Traditions
• Employee Resource Groups
• Core Values
• Impactful Projects
Create Your Company Profile:
We use those insights to produce and collect photos and videos, then build a company profile that gives both active and passive candidates an authentic, behind-the-scenes look into your work environment, your people, and your culture.
Share Your Story:
Once we've captured your company story, we help you share it everywhere and track performance through our platform.
• Careers Page
• Social Media
• LinkedIn
• Glassdoor
• And Beyond
Hire More Informed Candidates:
With your unique story consistently being showcased in front of top talent, you will attract, hire, and retain the right people for your team.
What Our Partners Are Saying:
"17% of Knot Standards existing employee base came through The Muse (roughly 20 of our ~100 team members)."
"Our turnover rate has improved significantly this year at about 20%, down from a previous 40-50%."
"About 75% of candidates had looked at Knot Standard's profile on The Muse before coming in for an interview."
— Nicole Cunningham, Senior Director, Employee Experience (Knot Standard)
"If somebody came to us through The Muse or hit our profile at some point in their research process, I know they are more informed than someone who saw our job posting on a job board or applied through another channel."
— Kristen (Reese) Magni, Vice President, Talent & Culture (Bozzuto)
"The BrandBuilder tool was invaluable for Carbon Black. Not only did we get rich insights, but we heard from a range employees in varying roles that we don't normally hear from. With BrandBuilder, we can use the testimonials for our collateral and digital content, and can now tap individuals who have marked themselves as company advocates. This cuts down the time it takes to find willing employees and allows us to leverage people who are engaged and passionate about the company."
— Ashley Perez, Senior Talent Brand Ambassador (Carbon Black)