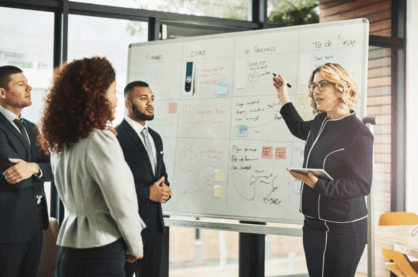 Erigo Employer Solutions

HUMAN RESOURCES ADMINISTRATION
Erigo partners with your organization to assume the administrative responsibilities associated with
employment. Specific services may include:

New hire administration, including:

Access to Applicant Tracking System
Preparing, sending, and collecting Conditional Offer of Employment letters
Pre-employment screenings (background checks, drug tests, etc.)
New employee onboarding
State New Hire Reporting

Drafting, regularly reviewing, maintaining, and communicating employment policies
and Employee Handbooks
Preparing position-specific recruitment plans and job postings
Developing Organizational Charts
Assisting with the development of strategies related to succession planning, talent
development, competitive benefit packages, PTO offerings, etc.
Developing, distributing, and analyzing Employee Satisfaction Surveys
Developing job descriptions
Developing customized performance evaluation forms and performance
management procedures
Employee and/or manager training sessions on varying topics, such as:
Interviewing Dos/Don'ts, Performance Management, Sexual Harassment
State employment reporting
Unemployment claims administration
Employment records management
Guidance and assistance with terminating employees
COMPLIANCE ASSISTANCE
Maintain compliance with everchanging federal and state laws, which can be overwhelming. Erigo
provides compliance support for clients through experienced HR professionals who understand
the nuances of employer compliance. Specific services may include:

FMLA, ADA, ADEA, I9,USERRA, ERISA, and EEO compliance assistance and oversight
Wage and hour compliance (FLSA)
Other employment-related HR compliance
Labor Law Poster compliance
AFFORDABLE CARE ACT COMPLIANCE
Administration concerning the Affordable Care Act can be overwhelming, costly, and may subject
organizations to potential fines and penalties. Erigo aids clients in taking a proactive approach to
developing strategies for managing their workforce to help with ACA compliance and control the
potential impact of associated costs.
TALENT ACQUISITION
Utilize Erigo's expertise and ApplicantTracking System to quickly find candidates with the education
and specialized experience that you need.
EMPLOYEE BENEFITS ADMINISTRATION
Erigo provides clients with a competitive array of employee benefits, including: medical, dental, vision,
life, short-term disability, and long-term disability insurance; 401(k) plan; EAP program; and other
ancillary benefits. By pooling together our clients, Erigo leverages economies of scale to provide small
and mid-sized employers with large group benefits. Specific services may include:
Ensuring compliance with regards to all required notices and disclosures,
including preparation of documents and distribution to employees, if applicable:
Wrap Document / Summary Plan Document
Summary of Benefits and Coverage
Certificate of Coverage
Section 125 Plan
Salary Redirection Agreement
Women's Health & Cancer Rights Act
Patient Protection "Provider Choice" Disclosure
Newborns' Act Description of Rights
HIPAA Privacy Notice Distribution
Employer CHIPRA Notice
Creditable/Non-Creditable Coverage Notice
401(k) Notices & Plan Documents

Notifying employees when they become eligible for insurance
Managing enrollment changes (adds/drops) each month with the carrier(s)
Processing Qualifying Life Events
Reconciling insurance invoices
Negotiating the renewal with the carrier at open enrollment
Educating employees on the benefit options available to them at time of hire
and during each open enrollment period
Administering/maintaining the electronic benefit enrollment platform
COBRA administration
WORKERS' COMPENSATION INSURANCE
When accidents occur, Erigo provides support with administering workers' compensation claims. In
addition, Erigo offers competitively priced group workers' compensation coverage without the
requirement of an onerous deposit fee.
WEB – BASED HRIS
Erigo offers a web-based Human Resources Information System (HRIS) that provides clients with instant
access to human resources information without having to purchase and host a complicated software
package.
PAYROLL AND TAX ADMINISTRATION
Erigo provides complete payroll and tax administration, ensuring that employees are paid correctly and
on time. Specific services may include:

Preparing and distributing payroll checks
Direct deposit of wages to bank accounts
Year-end W-2s
Payroll data maintenance
Federal, state, and local withholding and tax deposits
Payroll-related record keeping, audits, inquiries, and verifications
Payment of wages and employment taxes
Paid time off (PTO) tracking